Four kinds of clothing for easy Elimination Communication
Practicing Elimination Communication does NOT mean you must leave your baby naked all the time! More and more parents are realizing the advantages of keeping their baby dressed in comfortable, practical clothing and even using cloth diapers or training pants as backup during their EC practice. (Yes, it's okay to use diapers when practicing EC!)
Yet, conventional baby clothing is so cumbersome. What's with all the snaps? and the one-piece outfits that have to be entirely removed to change your baby's diaper? Who in the world ever came up with these things?
Luckily, there are clothes that make sense for easy and fast diaper changes and potty visits. There ARE clothes that are easy to remove when you want to offer your baby a quick potty opportunity, and some that don't have to be removed at all!  You really can quickly and easily respond to your baby's wiggle cue without having to set aside ten minutes for clothing removal.
So… what clothes are easy to use with Elimination Communication?
There are four main categories of EC-friendly clothing for babies and toddlers that were designed specifically for easy elimination communication, that are actually practical and easy to use.
Split Pants also called split crotch pants, or sometimes EC pants – pants that open in the middle for pottying, to wear with or without diapers.
---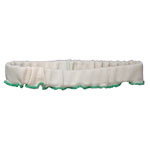 Diaper Belts also called prefold belts – a soft simple waistband to hold a flat or prefold cloth diaper in place.
---
rECtangle Diaper Covers are the perfect backup solution when practicing elimination communication with a prefold and diaper belt, allowing quick and easy potty opportunities while protecting your clothes and baby carrier from misses.
---
Thigh Socks are super convenient for layering with other clothing and don't block access for pottying or diaper changes.
---
Read through the following four pages for a full explanation of each of these four favorite kinds of clothing for elimination communication.
First in our EC Clothing Guide: Split Pants
I welcome your feedback on this five-page Guide.