Hi! I'm Marija. Here is my story about why I started EC Wear and how it has progressed over the years.
---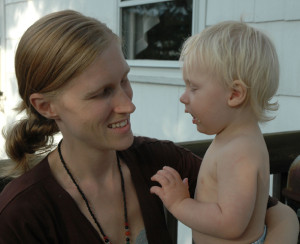 When my son was a baby I could not find clothes for him that I wanted. We practiced Elimination Communication, so I was taking him to the potty frequently. I was looking for baby clothes that were easy to remove when I needed to take him to the bathroom or change a wet diaper. And quick to put back on so he wouldn't get bored or frustrated with the process.
Before my son was born, I had spent over a decade fighting for worker's rights and I wanted to buy clothing that was made by people who were paid fairly and treated fairly. I had a hard time finding any baby clothing that was not made in China and other countries with horrific human rights' violations, much less the specific kinds of no-fuss, practical baby clothing for easy diaper changes that I wanted!
I started out simply cutting the crotch out of my son's baby pants and hemming the cut edges to make a chap-style split crotch pant.
This worked great. I could tuck a prefold diaper inside or put a fitted diaper over the pants. During diaper-free time the chaps kept him warm and protected his knees when he was crawling. A lot of other moms were curious about the pants, especially when he was crawling and he had the split pants on under a colorful cloth diaper cover.
People kept telling me they loved the chaps and they encouraged me to start selling them. So, I talked with my mother and she agreed to sew the pants for me to sell. My mother's name is Lil and the pants were little chaps, so we came up with the idea to call them "L'il Baby Chaps." Clever, right? So, Mom started sewing and we started selling.
EC Wear was set up as an LLC and the website was launched in January 2008. In addition to the L'il Baby Chaps, we added a few other products, including diaper belts, a matching diaper cover to wear over the L'il Baby Chaps, and some other things that my mother made. I also wanted to be a one-stop shopping center for families practicing Elimination Communication, so I searched far and wide for all the available products that made EC easier that met my standards for environmental impact and worker's rights, and added them to the site.

It gradually became clear to me that I needed to shift focus onto designing and manufacturing.

Over the years, many of the products I was selling were discontinued because the small businesses making them closed down.  Practical clothing for EC was getting harder and harder to find. It gradually became clear to me that rather than simply being a centralized location selling convenient, sweatshop-free, EC-friendly clothes for my customers, I needed to shift focus to designing and manufacturing the products families were looking for to keep their babies clean, dry, and frustration-free during their diaper-free journey.

Being a full-time mom and a part-time business owner, squeezing time in between website maintenance, shipping out orders, bookkeeping and all the other things a small business owner does, it was a slow process learning about sourcing fabrics, finding a sewing contractor, understanding all safety regulations, acquiring all required licenses, and all the other boring aspects of running a manufacturing business. After a long search and several false starts, In mid-2012, I found a wonderful sewing contractor local to me in New York City. I was excited to find a family-operated small sewing business that was willing to work with me on small production runs and provide excellent quality work. In 2013 and 2014 I slowly added two new products to my line of EC Wear clothing.

Please sign up for our email list so I can update you on our progress.

Sign up for emails

Start Shopping