rECtangle™ diaper covers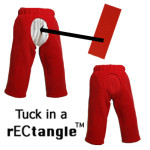 EC Wear has designed the perfect diaper cover for elimination communication. It is waterproof while allowing access for caregivers to quickly learn if a diaper needs a change, it is quick and easy to remove for pottying or diaper changes, and it coordinates with L'il Baby Chaps for a complete outfit for going out of the house.  Like all EC Wear products EC Wear Split Pants are Eco-Friendly.
Learn more about using a rECtangle™ in our EC Clothing Guide.
Showing all 9 results